Our Commitment to You
Since 1988, our commitment to our clients has remained the same; to listen to their needs, work within their budget and complete the project beyond their expectations and on time.
Terry Bayes, Sr. has retired as owner, but still works in sales part-time. The current owner is his son, Walter "Doug" Bayes II.
We appreciate the attention to detail and the high quality of craftsmanship that you strive to maintain. - Kathy & Alex S.
You did an excellent job and we love it! Thanks to all of you for a wonderful stress free experience. - Bob & Gayle C.
Thanks again to Bayes & Sons for helping us realize a long-time dream. - Bob & Dolly N.
For us, you set a new standard for meeting and exceeding customer satisfaction. - Gerry & Bob K.
You can definitely add us to your list of satisfied customers. - Ann & Allen C.
Thanks for making this an enjoyable and exciting experience for us! - Mike & LeAnn W.
Thank you again for a beautiful, quality job. We couldn't be happier with the end result, nor the journey getting here. - Kathy & Alex S.
If your goal is for Total Customer Satisfaction then you certainly achieved your goal with us! - Chris & Dorreen H.
Your attention to detail and professionalism were exemplary. - Diana P.
You were terrific people to have around. Actually, I miss you. - Ann & Frank L.
Outdoor Living
For today's life style we have expanded our homes living space to include the outdoors more than anytime in recent history. With treated exterior woods, composite trim, concrete siding and a multitude of concrete paver stones and retaining wall block designs and sizes our boundaries are limitless.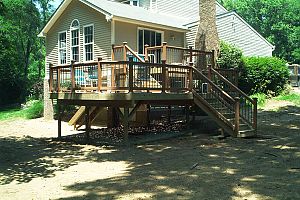 Let us design an outdoor living space designed for you. Whether it's a new deck, stamped concrete patio or paver brick lounge area we can help. Maybe it is a covered patio, three season screen room or a retaining wall to turn that hillside into a level area for family gatherings. Let Bayes and Sons create an exterior living space for you.

As part of the remodel, we can add gas grills, sitting areas and storage sheds so that you can enjoy the natural environment around your home to the fullest.
Some Day the Quality of Remodeling will go up. Up to Bayes and Sons Quality.