Our Commitment to You
Since 1988, our commitment to our clients has remained the same; to listen to their needs, work within their budget and complete the project beyond their expectations and on time.
Terry Bayes, Sr. has retired as owner, but still works in sales part-time. The current owner is his son, Walter "Doug" Bayes II.
We appreciate the attention to detail and the high quality of craftsmanship that you strive to maintain. - Kathy & Alex S.
You did an excellent job and we love it! Thanks to all of you for a wonderful stress free experience. - Bob & Gayle C.
Thanks again to Bayes & Sons for helping us realize a long-time dream. - Bob & Dolly N.
For us, you set a new standard for meeting and exceeding customer satisfaction. - Gerry & Bob K.
You can definitely add us to your list of satisfied customers. - Ann & Allen C.
Thanks for making this an enjoyable and exciting experience for us! - Mike & LeAnn W.
Thank you again for a beautiful, quality job. We couldn't be happier with the end result, nor the journey getting here. - Kathy & Alex S.
If your goal is for Total Customer Satisfaction then you certainly achieved your goal with us! - Chris & Dorreen H.
Your attention to detail and professionalism were exemplary. - Diana P.
You were terrific people to have around. Actually, I miss you. - Ann & Frank L.
Exterior Remodeling
Are you familiar with the term "first impression"? If so what kind of "curb appeal" does your home have?

Let our team make sure your home is both beautiful and functional and with the curb appeal you have dreamed about. From installing siding, repairing and replacing roofs, replacing entry doors to upgrading exterior trim, shutters and gutters, we do it all as part of a total remodel or exterior upgrade.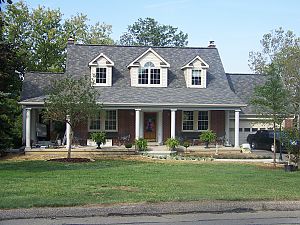 Let us design your new addition to blend with and compliment the charm of your existing home with all of today's energy efficient materials in a multitude of styles manufactured by today's top name brand manufacturers. Designing your project to meet all of your expectations has become easier than ever and our goal.

We believe that when updating the exterior or adding on to your home, the finished product should look as if it were built this way originally. That's why at Bayes and Sons we help direct you to the right designs and products for the perfect fit with your homes exterior design.
Some Day the Quality of Remodeling will go up. Up to Bayes and Sons Quality.