Our Commitment to You
Since 1988, our commitment to our clients has remained the same; to listen to their needs, work within their budget and complete the project beyond their expectations and on time.
Terry Bayes, Sr. has retired as owner, but still works in sales part-time. The current owner is his son, Walter "Doug" Bayes II.
We appreciate the attention to detail and the high quality of craftsmanship that you strive to maintain. - Kathy & Alex S.
You did an excellent job and we love it! Thanks to all of you for a wonderful stress free experience. - Bob & Gayle C.
Thanks again to Bayes & Sons for helping us realize a long-time dream. - Bob & Dolly N.
For us, you set a new standard for meeting and exceeding customer satisfaction. - Gerry & Bob K.
You can definitely add us to your list of satisfied customers. - Ann & Allen C.
Thanks for making this an enjoyable and exciting experience for us! - Mike & LeAnn W.
Thank you again for a beautiful, quality job. We couldn't be happier with the end result, nor the journey getting here. - Kathy & Alex S.
If your goal is for Total Customer Satisfaction then you certainly achieved your goal with us! - Chris & Dorreen H.
Your attention to detail and professionalism were exemplary. - Diana P.
You were terrific people to have around. Actually, I miss you. - Ann & Frank L.
Kitchen & Bath Remodeling
Kitchen Remodeling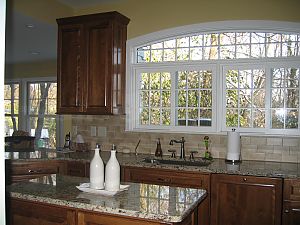 Tired of the 1970's kitchen cabinets and appliances? We can design the perfect cooking and dining areas for today's hectic life style. Our kitchen remodeling team will design the kitchen of your dreams. Let us show you how the latest designs and trends in cabinetry, counter tops and appliances can spice up your kitchen and dining experience. Custom or Semi Custom wood cabinetry in today's hottest styles, wood species and stain or paint finishes combined with solid surface, granite or Quartz counter tops, all complimented by the use of today's major appliance brands guarantees your dream kitchen of tomorrow.
Bathroom Remodeling
Quality workmanship shines thru on our complete bathroom remodeling. We combine luxury finishes, brand name fixtures and today's latest design trends to create a truly updated bathroom for today. Experienced licensed master plumbers and electricians will work along side our hourly employees to create the comfort and elegance you desire.
Some Day the Quality of Remodeling will go up. Up to Bayes and Sons Quality.