Our Commitment to You
Since 1988, our commitment to our clients has remained the same; to listen to their needs, work within their budget and complete the project beyond their expectations and on time.
Terry Bayes, Sr. has retired as owner, but still works in sales part-time. The current owner is his son, Walter "Doug" Bayes II.
We appreciate the attention to detail and the high quality of craftsmanship that you strive to maintain. - Kathy & Alex S.
You did an excellent job and we love it! Thanks to all of you for a wonderful stress free experience. - Bob & Gayle C.
Thanks again to Bayes & Sons for helping us realize a long-time dream. - Bob & Dolly N.
For us, you set a new standard for meeting and exceeding customer satisfaction. - Gerry & Bob K.
You can definitely add us to your list of satisfied customers. - Ann & Allen C.
Thanks for making this an enjoyable and exciting experience for us! - Mike & LeAnn W.
Thank you again for a beautiful, quality job. We couldn't be happier with the end result, nor the journey getting here. - Kathy & Alex S.
If your goal is for Total Customer Satisfaction then you certainly achieved your goal with us! - Chris & Dorreen H.
Your attention to detail and professionalism were exemplary. - Diana P.
You were terrific people to have around. Actually, I miss you. - Ann & Frank L.
About Us

Bayes and Sons is a small family owned and operated business serving Southwest Ohio since 1988. We specialize in complete remodeling starting with the design process through the final stages of construction. Our projects range from kitchens and bathrooms to room additions and dormers to finishing basements and whole house exterior renovations. From top to bottom we have it covered.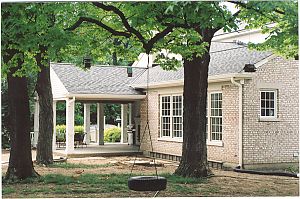 We believe in treating our clients and employees like family and truly try to exceed their expectations. In today's electronic world of communication, Bayes and Sons Custom Remodelers is one of the few surviving family owned companies that relies on client referrals and repeat business as our main source of new business.
We pride ourselves on providing extremely professional attention to detail during the design process. We're flexible, creative and value oriented. We strive to deliver craftsmanship and quality that others promise but seldom deliver. Our employees will treat your house and property as if it were their own; after all we want to add you to our family of satisfied clients.
Some Day the Quality of Remodeling will go up. Up to Bayes and Sons Quality.